Chic Kiss Love
Others
The Marketplace
Chic Kiss Love: The Marketplace- The Shopping Extravaganza
November 30, 2012
What if I tell you, that I have a secret shopping adventure for you? That too, a sales event! Chic Kiss Love is organising an on...
What if I tell you, that I have a secret shopping adventure for you?
That too, a sales event!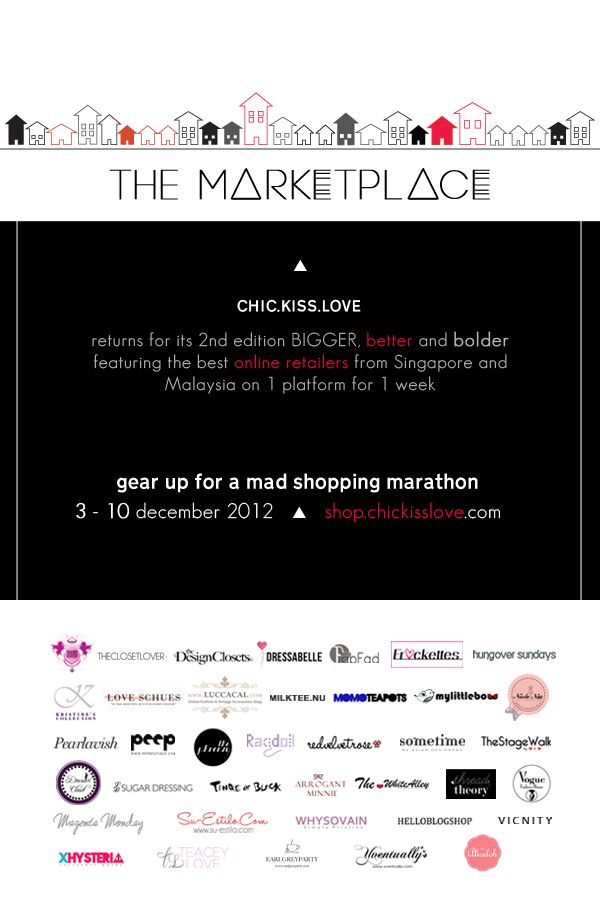 Chic Kiss Love is organising an online sales event at a special online market (
www.shop.chickisslove.com
- full site will be revealed only on 3rd Dec). Items will be sold from $5 onwards!
And the best thing about this- shipping is completely FREE within Singapore & Malaysia!
The sales event will start on 3rd December 2012 and will end on 10th December 2012. During this period, there will be new additions to the site everyday and customers can expect to go crazy on their festive shopping with super low prices AND free shipping.
Chic Kiss Love has more than 30 labels participating from both Singapore and Malaysia.
Participating labels:
Singapore
Earl Grey Party, DressIn' Closet, Dressabelle, Fabfad, Frockettes, Hello! Blogshop, Hungover sundays, Love Schues, Magenta Monday, Momoteapots, My Little Bow, Kristine's Collection, Pearlavish,
Ragdoll Store, Red Velvet Rose, The Closet Lover, The Design Closets, The Phrenzy, The Stage Walk,
The White Alley, Teacey Love, Thread Theory, Tinge Of Black, Vogue fashion house, Yventually,
Malaysia
Baby Bedazzled, By Alice Loh, Luccacal, Milktee, Nude Not, Sometime, Peep Boutique, Su-Estilo,
Sugar Dressing, The Arrogant Minnie, Vicnity
How does this Marketplace works?
This will allow a more convenient check-out process as payment details and individual profiles will be locked in by the system.
2) Tagging of items on site
All items on site will be tagged according to various attributes. For example: #Floral, #Red dress, #Christmas, etc. Recommended tags such as those Recently Searched, Most Searched, and Best Sellers will be automatically tagged to items based on their on-site activity.
3) Powerful filtering system
Users are able to browse through items through intuitive categories such as different price points, colours, occasions and brands to make for quicker shopping. For those who would prefer a more minimalistic interface showing only what they like, they will be directed to a page where they can choose up to 10 of their favourite items. The system then monitors the tags attached to these items and identifies similar trends before collating and generating a page suited to what the individual likes.
4) Payment infrastructure
The payment process will begin upon "checkout" and customers across Singapore and Malaysia can pay via iBanking or Paypal. Shipping is free.
Remember that this sales event starts on the 3rd of Dec and ends on the 10th of Dec. That is a whole week of online sales!
Grab a pillow, beverage and food of choice & you are ready to shop!