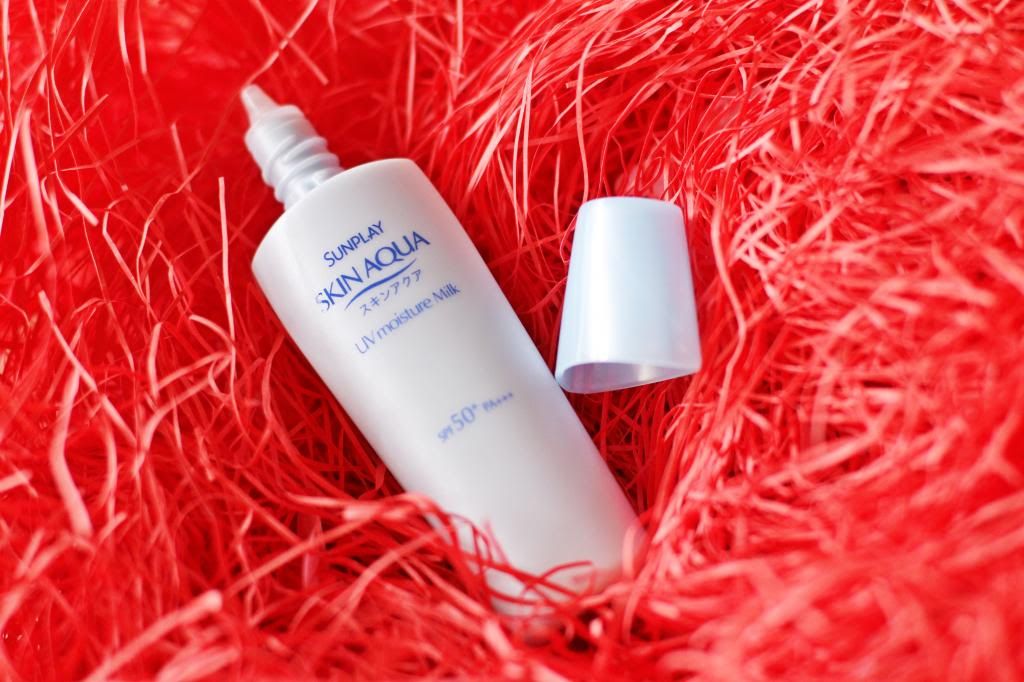 I never leave the house without sunblock/sunscreen. Never. I used to believe that if I don't have it on, I will be charred. I have to thank my crazy subconscious mind for thinking as such. On a vainer perspective, I wanted to try on sunscreen to prevent myself from being dark.

My pre-requisite for a sunscreen is:
- non-greasy/oil free
- matte finish
-no white cast
- non-alcohol

Here is what they claim the sunscreen to be:

Skin Aqua is ultra light with its Japanese watery liquid texture. The lotion is comfy and absorbs quickly without giving a white cast. It is non-greasy with a matte powdery finish for the perfect make-up primer. Non-sticky no matter how many times you re-apply.

Skin Aqua is fragrance, color, alcohol and oil free, and suitable for all skin types.

Skin Aqua has Solarex-3, a revolutionary formula with 3 comprehensive levels of UV defense. It protects skin from surface to deep within for long hours. Super hydrating too!

The New Generation Solarex-3 (3-in-1 Sun Protection)
1) Long Lasting, Superior UV Protection: Advanced photo-stability with the highest UVA & UVB protection for long periods of safe sun exposure. UV rays are reflected away like from a mirror.

2) UV Anti-Aging Protection: two powerful anti-aging ingredients, RonaCare Exotin and French Golden Algae, help to prevent pigmentation and wrinkles from surface to deep within.

3) Intense Hydration (Dryness Protection): Hyaluronic Acid, Collagen & Vitamin E intensely hydrate and lock-in moisture for long hours, so skin stays refreshingly moist.


They are definitely not kidding when they claim it to be of a watery liquid texture. As you can see above, it is very runny and already trickling down my hand. I have been using this for almost 2 weeks alone and under makeup. I must say, I am beginning to love it. When I first put it on, it felt really greasy and I was ready to leave it. So I decided to give it a second chance and massaged it into my skin until it gets fully absorbed. That was the trick and my face doesn't feel sticky or tacky. It felt like I had nothing on actually.
The fact that it is SPF50 makes me feel a whole lot safer walking along the streets of Singapore. If you are not from around this region and you don't know, Singapore has Summer all year round. Years ago, I went swimming without sunscreen and came out scaling. This sunscreen is water and sweat proof which means you need a facial cleanser to wash this off.
I really do hope you try the new Sunplay Skin Aqua UV Moisture Milk SPF50 PA+++ (42g).
Please do care for your skin.
The SUNPLAY Skin Aqua range is available at Watsons, Guardian, Sasa, Unity and other major department stores.
I just checked their facebook page and they are giving away 10 bottles of the new Sunplay Skin Aqua UV Moisture Milk SPF50 PA+++! Click
here
to be directed to their facebook page.
Good Luck!